Apple's iPhone location history tracker has the potential to monitor every move you make and present it to you in a beautiful list on your phone – if that's what you want. There could be many reasons why you'd want this turned on, from keeping track of where you've been to getting better suggestions from Apple in terms of where to go and where to go. App Store apps relevant to that location. Here's how to see your iPhone's location history.
QUICK RESPONSE
To see your iPhone's location history (assuming you have it turned on), go to Settings > Privacy > Location Services > System Services > Significant Places. You'll now see a list of every place you've been since you enabled the feature. You can tap a location to see it on Apple Maps, and you can also delete all history if you want.
How to See Your Location History on iPhone
Start by going to Settings > Privacy and press Location Services.
Scroll down the page and select System Services.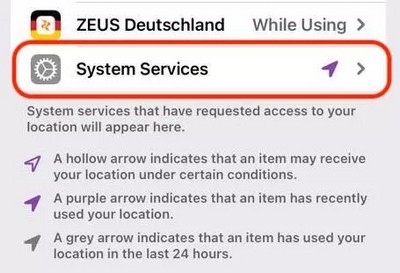 Scroll down and select Significant locations.
If this feature is enabled, you will now see all the locations recorded by your device since you enabled it. All you have to do is press Summary and select a place to see it on Apple Maps. You can zoom in and out of the map with your fingers if you need location context.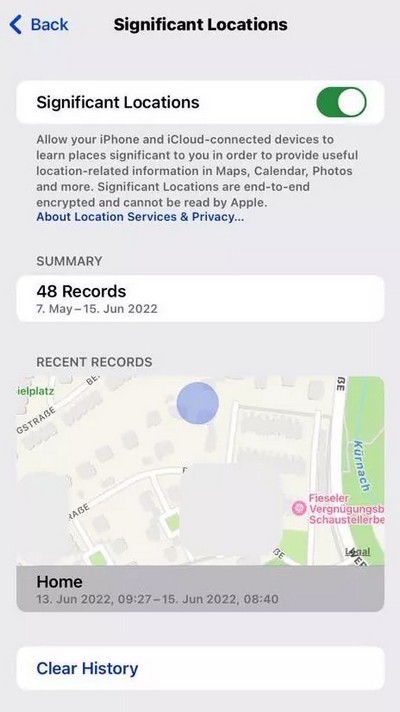 If you want to erase everything, just press Clear history below and all will be gone. If you want the collection of location data to stop, be sure to disable the feature before leaving the page.
FAQs
How to Delete Location History on iPhone?
On the page Significant locations, there is a link to delete all data. This is irreversible. Keep in mind that unless you later disable the feature, your device will start collecting information again.
What is the benefit of turning on Location History on an iPhone?
Apple says knowing this information can help them provide you with relevant information, such as better map directions, more accurate suggestions of places to visit, and better App Store suggestions. Of course, it can also serve as a diary of where you've been if you need to keep accurate records of work-related trips.
Can Apple read location history data on an iPhone?
Apple claims that this information is end-to-end encrypted and cannot be read by them. Of course, we can only take their word for it.
If you have any questions or suggestions, let us know in the comments. Also check out this guide if you want to learn how to find your lost or stolen iPhone.